When thinking about exit your small business, many owners wonder who to turn to for help. After all, a majority of small business owners have never exited a business. That's great, it likely means you have successfully started and run your business and never faced the idea of not running it anymore. 
There are a number of resources available and who is best suited to help may depend on that path you are taking. This article will cover some of the most important questions to ask yourself to help determine who may be most effective in helping you exit your business without spending a lot of time and money.
How Do You Plan To Exit Your Business?
Do you plan to sell your business to a business, partner, or employee? Maybe you want to sell your business but need help finding a buyer. Perhaps you are seeking a quick exit and do not have the time to market the business to potential buyers?  The pathway you choose determines the best resources to engage. 
If you need help finding a buyer, you will want to engage experts in packaging the business in a way that appeals to qualified buyers. This may be as simple as someone that takes your information to create visually appealing files or more extensive help to help analyze your business, put together a plan and market the business to prospective buyers. 
Oftentimes an owner has an interested buyer such as a current business partner, employee, or someone in the local community that is familiar with the business. In this case, packaging and marketing the business to prospective buyers unfamiliar with the business is not necessary. Instead, it may be someone to help establish a fair value for the business or create an agreement to transition ownership. 
The first step in this process is identifying what path is best for the business and you and from there, you can assess your needs which in turn will determine the best resources to engage.
Are Current Providers The Best Choice For Exiting Your Business?
Running a small business often leads to close relationships with employees and key providers. It is common to get to know people personally and see another outside the work environment. Working with an attorney, bookkeeper or CPA over a period of time requires a deep level of trust as these professionals have access to the most sensitive information related to your business.
When the time comes to exit, it is natural to turn to the same people that have helped you for years. Exiting a business you have worked hard to build is one of the most important decisions you will make and having the right people to help you will make a difference. Making an objective decision is hard but critical and it is important to engage a professional that has experience in exiting a business. Does your CPA have experience performing business valuations? Do they know the reports prospective buyers will request and anticipate questions related to the financials and help you prepare how to answer those questions? Does your current lawyer have experience in business purchase agreements or asset purchase agreements?
Think of it another way, your primary care physician may refer you to a specialist at times. You may expect an uncomfortable conversation but you may be surprised as your CPA or attorney may come out and suggest another expert they know help. 
What Resources Do You Need?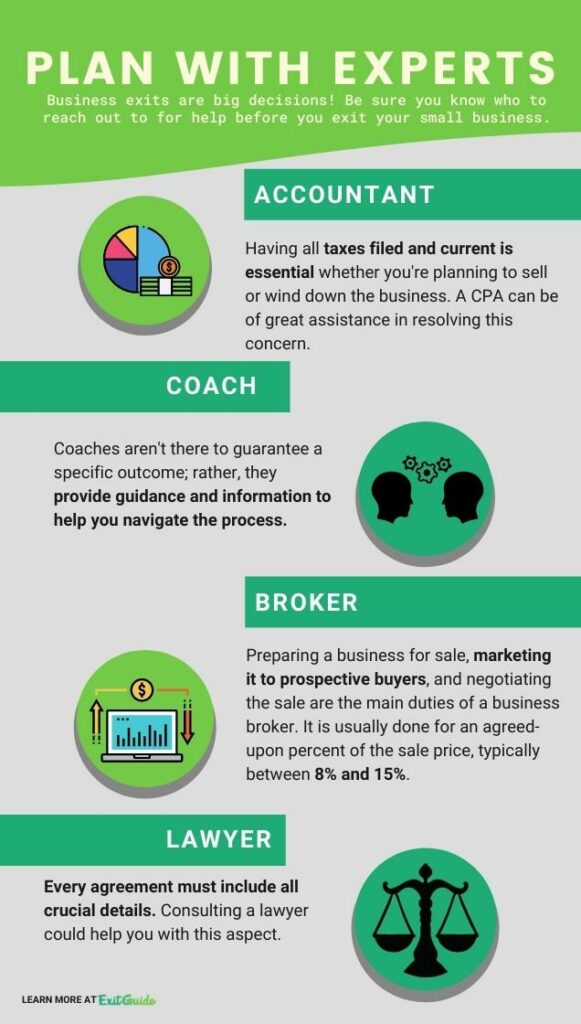 Chances are you have asked a few people in your network for advice and get different answers as to who else to talk to or engage. To help you sort out who does what, we have a list of the most common resources owners typically use and a basic explanation of the help they provide. 
Marketing
If you feel like you know what to do and what information you need to present to a prospective buyer, engaging a marketer or designer to put together professional-looking materials may be worth it. After all, you want to present your business in the best light possible.
Bookkeeper
A prospective buyer will want to review three to four years of financial statements so, if you manage your own books, consider engaging a professional bookkeeper to review and update your financials. Creating a chart of accounts, a balance sheet, and running profit and loss reports require the fundamentals to be accurate. 
CPA
Whether you plan to sell your business and require a formal business valuation or plan to wind down the business, having all taxes filed and up to date is a must. When filing for dissolution, states require that any and all taxes and penalties are up to date. If you are unsure or have outstanding tax liabilities, you will need to address this to exit your business and a CPA is likely an invaluable resource. 
Financial analyst
What is your business worth? On one hand, it is worth what someone is willing to pay for it. So how do a buyer and seller start the negotiation process? Obtaining a business valuation will provide an objective valuation of the business using financial statements and a methodology such as Seller's Discretionary Earnings or Discounted Cash Flow Analysis to determine the value. 
Attorney
Eventually, you will need some type of agreement to transition out of your business. This may be a business purchase agreement, asset purchase agreement, dissolution, or other agreement. It is essential that you have something that clearly states the details including the price, how the transaction will be financed, representations and warranties, and other important details. 
Business broker
A business broker focuses on preparing the business for sale, marketing to prospective buyers, and negotiating the transaction. This is done for a percent of the sale price, typically between 8% and 15% depending on the size of the transaction. As you might expect, brokers are incentivized to get the best price which also means they focus on larger transactions. When considering working with a business broker, ask about their experience in your specific industry and community. Will this person increase the odds of selling your business and if so, at a price you would not obtain on your own?
Coach
Most business owners have questions related to where to start and what to do. It is not uncommon for an owner to need input on their options in order to decide what path is best for their business and the owner. A coach is not tied to a specific outcome, instead, this person is there to help navigate the process and provide information to make decisions along the way. 
Over 50% of small business owners plan to sell their business on their own. Engaging the right resources at the right time can provide cost-effective help to ensure a successful exit and move through the process with greater confidence.