Many small business owners plan to take a "for sale by owner" approach when the time comes to sell their business. This makes sense. You know the company better than anyone and have access to the information a buyer needs to assess the business. Besides, who is better suited to talk about the business? However, the challenge most business owners face is actually identifying and engaging prospective buyers. 
You probably started and ran your own business. Still, if you are like the vast majority of small business owners, you have never marketed and sold a business before. That's okay. This article will cover some of the most important steps you can take to get started. The saying, "most businesses are not bought, they are sold," is something to keep in mind. 
Decide If You Are Able To Sell The Business Or The Assets Owned By The Business
According to an ExitGuide survey, over 31% of business owners believe their biggest obstacle to exiting their business is identifying a potential buyer. An additional 16.5% report they are not sure they can attract a buyer at the price they seek for their business.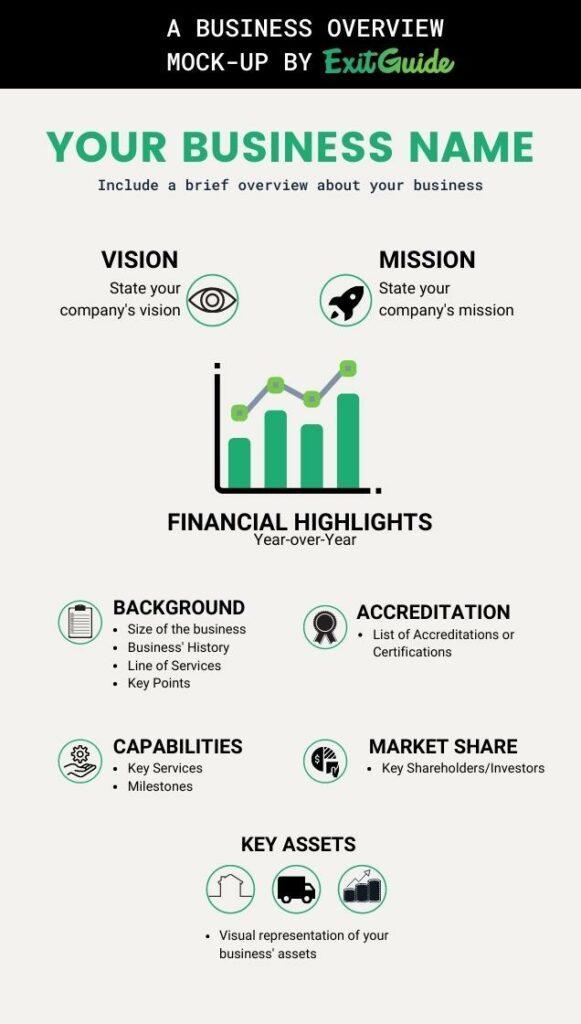 As you start on this path, it is important to be objective about how a potential buyer may view the business. If someone is buying a business, they acquire all of the assets and the liabilities. Therefore, a buyer will want to know if the company is profitable. Is the business growing? If this is not the case, attracting a buyer is likely going to be a difficult task. Most buyers would rather wait and find a similar business that is profitable and growing or consider a different business altogether. 
While most business owners would like to sell their business, this may not be a reality for many businesses. Instead, selling the assets may be a necessary strategy. It can still generate proceeds for a seller to walk away with money in their pocket. 
If this is the case, you can wait and work to improve the financial picture for the business or consider selling the assets. The type of business will have a significant impact on this approach. Does the business own assets that have real value? Is the value of the assets greater than the liabilities? If the answer to these two questions is yes, then selling the assets is something to consider. 
Gather Information A Buyer Will Need To Evaluate Your Business So It Is Ready To Share
Once you attract the attention of prospective buyers, you want to keep the momentum going by having the information and materials they need to assess the business. If you are not ready, you risk delaying the process, losing deal momentum, or sending the signal that you are not serious about selling your business. Taking the time to prepare is well worth it, much like you would make repairs and perhaps add some paint before putting your house on the market. 
So what information do you need to have ready?
Formation documents from when you created an entity such as LLC or S-Corp
Financial records & tax returns for at least 3 years
Key agreements such as leases, loan agreements
Business valuation completed by an independent provider
Create A List Of Potential Buyers You Can Market The Business Too; The More, The Better
While online marketplaces promote millions of eyeballs interested in buying a business, many small businesses will rely on their local community to attract a buyer. In fact, less than 20% of small businesses listed online will actually sell. Even if you have someone interested in the business, it may be a good idea to create a list of potential buyers in case you need it.
A vast majority of small business sales are "seller-financed." In other words, the buyer will make payments using proceeds from the business to pay the seller back over time. Often this may be between five and ten years. Understanding this may be the case, look internally and within your community and build a list. The more names, the better.
Employees are great because they are familiar with the business, whether one employee or a group of employees.
Business partners may be a current co-owner or someone you do business with familiar with your business. For example, a critical supplier seeking to expand.
Local business leaders may be interested in owning a business and hiring a manager. They often have relationships with people seeking to make a similar investment. 
Online tools such as Yelp and Google can help jog your memory or find a business outside your current network. 
Create A Package That Is Visually Appealing And Provides Information To Get The Reader's Attention
The fundamentals need to be in place, and packaging the information in a professional manner may help your business stand out from the competition. Start by creating a document that summarizes the company, when it started, what it does, how it stands out, and the opportunities ahead. Then, go ahead and spend a bit of money on the presentation of your business by engaging a graphic designer or marketing professional to give it that professional look. You do not have to spend hundreds of dollars. A clean and well-designed document gives a great first impression and briefly presents the most relevant information. 
Now that you have your target list and a professional-looking summary be proactive with outreach and networking. Contacting organizations such as the local Chamber of Commerce or other professional organizations may lead to warm introductions. 
Selling your business takes some effort. However, it is doable if you have good financials, are prepared with the necessary information, and effectively market the business to a qualified audience of prospective buyers.