When planning your business exit, it's important to have all the important documents handy to expedite the exit process. Storing these documents in a central location is a best practice and this is known as a data room. Some of the most important documents you'll need when planning your business exit include:
NDA
A non-disclosure agreement (NDA) is an agreement that restricts the buyer and seller from sharing private information regarding the business and related confidential information. Throughout the process of engaging a potential buyer, sensitive data will be shared including detailed financial reports, key agreements, and trade secrets. An NDA helps protect you from your sensitive information being shared and it provides you basic legal rights for the information shared with buyers in meetings. 
Letter Of Intent (LOI)
A letter of intent (LOI) is a non-binding document that indicates a buyer's intent to purchase a business from the seller and typically includes specifics like deal structure, financing plans, due diligence process, and more. The LOI can be used to capture key business terms that an attorney will use to create a formal agreement. It is wise to use an LOI when the discussions for buying your business start to get serious. 
Current And Accurate Financial Statements
Accurate financial statements are crucial documents to have prepared; buyers will typically ask for 2-3 years of financial statements as well as a balance sheet The financial statements you should have ready should include income statement/profit and loss (P&L) statements, balance sheets and statement of cash flows. It's vital to ensure that your financial statements are accurate and up to date for full transparency with your prospective buyers.
Business Purchase Agreement
The business purchase agreement is a binding agreement that outlines the transfer of ownership from the seller to the buyer. This agreement covers the transfer of both assets and liabilities, purchase price, payment terms, representations, and warranties and may also include clauses like a non-compete agreement for the seller. 
Like other professions, attorneys often specialize in select areas of law, and working with a trusted attorney with experience in this type of transaction is critical. 
Building/Office Lease
In many businesses, the terms of the existing lease are a crucial factor in selling the business.
As the seller, you should have an up-to-date business/office lease for your buyer's records. If the lease is nearly up, you should work with the buyer to help extend the lease from your landlord. Make sure to have the lease documents ready for the buyer and transfer them to them when the business is sold.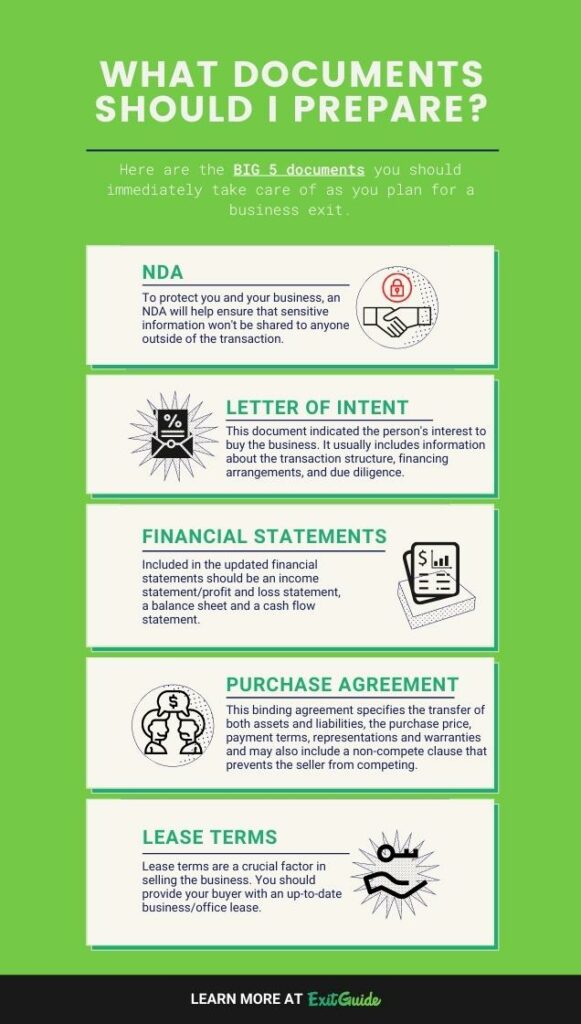 Take the ExitGuide free assessment here to get an LOI template you can use for engaging buyers for your business and explore ExitGuide Pro.